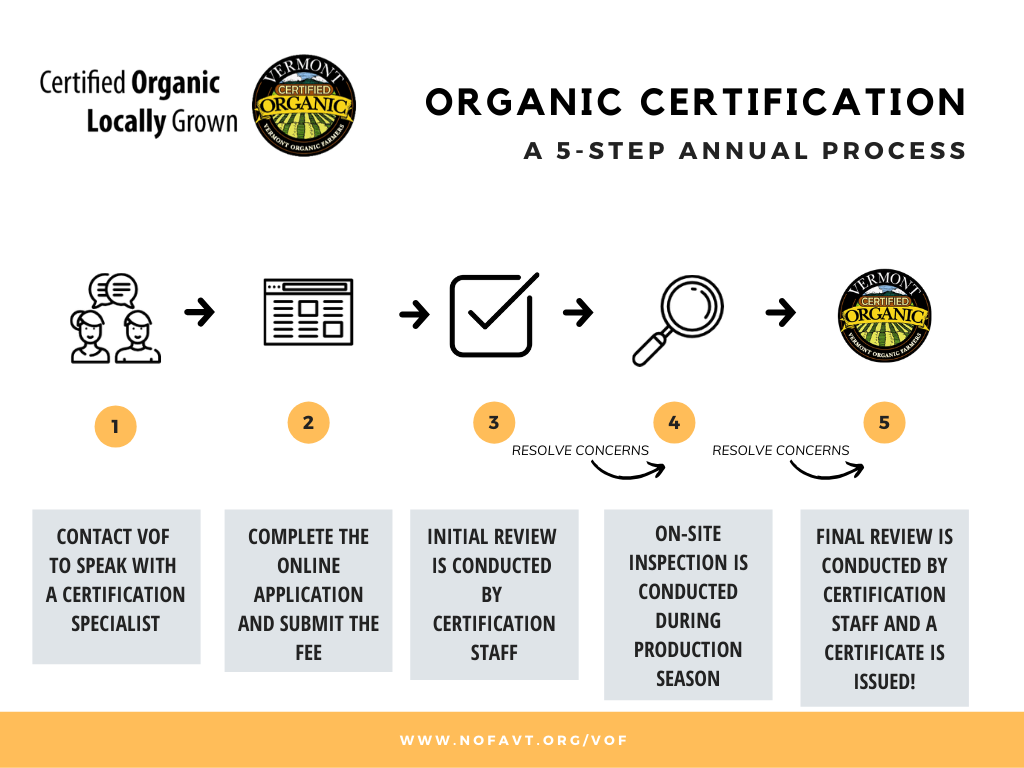 The process for organic certification takes approximately 6-8 weeks (on average) from the time we receive your completed application and certification fee payment. This time frame may vary depending on the complexity, location, time of year, and your ability to demonstrate compliance with regulations at the time of inspection. To assess your eligibility prior to contacting the VOF office, please refer to our current Certification Guidelines Book on the Guidelines page of this website.
---
Step 1 - Application
All operations applying for organic certification must fill out and submit a completed application (organic system plan) and certification fee. The application/organic system plan is completed via our online portal. You must speak with a VOF certification specialist in order to gain access to this portal.
We must receive an initial payment of at least half of your total annual certification fee before we process your application (full payment for new applicants is due within 120 days' receipt of your application). New applicants may submit on a rolling basis but there must be time to inspect your products while they are in production. Products cannot be certified retroactively (post-harvest). 
Continuing applicants must submit on VOF's deadline schedule and must also provide at least half of your total annual certification fee to be processed (full payment for continuing applicants is due within 120 days following the due date). After the application has been received, the VOF staff will do an initial review and send you a letter verifying the application is complete. It will be noted if additional paperwork is required (records, fees due, etc.). 
Step 2 - Inspection
A trained inspector will contact you to arrange an on-site audit of your productions and records. The inspector will verify your application is an accurate description of organic standards compliance and that it matches what you are doing in practice. They will summarize their findings in a report. Inspection time varies depending on size, location, and complexity. For applicants who have seasonal production (i.e. greenhouses or maple syrup), the inspection will be scheduled at a time to view the operation while in production. Note that inspectors are required to visit every production area (including fields, sugarbushes, barns, greenhouses, and relevant facilities), and a knowledgeable representative of your operation should be present to answer your inspector's questions for the duration of the inspection, so be sure to schedule your day accordingly.
Step 3 - Certification
The Certification Staff will review the farm/facility inspection report. You will receive notification of the certification decision and your organic certificate (if applicable) within, at most, two months of your inspection visit. Renewal applicants maintain their certification unless their annual inspection and review shows reason for suspension or revocation or unless the producer surrenders their certification, however they will be issued an updated certificate each year. Unannounced inspection visits may be made at the discretion of the Review Committee.
Step 4 - Resolution
You will receive a notification of the certification decision that may include conditions for continued certification. This may note specific items that require clarification or correction that are due to the office within 60 days or at your next annual inspection. Failure to respond to conditions in your decision letter in the time frame indicated may jeopardize your certification status. 
Step 5 - Cost Share Reimbursement
The Agricultural Management Assistance Program helps our certified organic producers afford the expense of organic certification. USDA's Farm Service Agency (FSA) recently announced that they are reducing reimbursement rates for the Organic Certification Cost Share Program. Congress set the current reimbursement rates in the 2018 Farm Bill at 75 percent of the certified organic operation's eligible expenses, up to a maximum of $750 per scope (crops, livestock, handling/process, wildcrafting). FSA has lowered the rate to 50 percent of eligible expenses, up to a maximum of $500 per scope. This reduction comes in the middle of a global crisis, at a time when it is critical to support our organic farms and processors as essential to our recovery.NOFA-VT and VOF are working with Vermont's Congressional delegation to fight this decision and restore full reimbursement to all organic operations. Visit our Action Alert Page to learn more. Reimbursement applications will be provided to all certified producers whose certification fees are paid in full, usually beginning in June.
Step 6 - Continuation/Renewal
Producers must update their applications and submit certification fees annually according to the VOF deadline schedule to continue certification. You will be inspected every year and will receive a new decision letter every year as well.