The Journey Farmer Program is a program for beginning farmers who are in the first few years of running their own farm business in Vermont. Farmers accepted into the program get access to business planning support, technical assistance, farmer to farmer mentoring, free admission to the NOFA-VT Winter Conference and NOFA workshop series, and an education stipend. You can learn more about the program here.  Read on to learn about the 2019 Journey Farmer cohort. 
Meet NOFA-VT's 2019 Journey Farmers!
---
4 Season Sprouts - Fair Haven, VT 
4 Season Sprouts, LLC, is a small scale sprout and microgreens operation based in Fair Haven, VT. We are impassioned by the transformative process of seed to sprout to seedling and all of nature's wonder and nutrients jam-packed in our tasty little friends. We are inspired by Permaculture and constantly utilize its design system to create complete growing and distribution systems that cycle and share as close to completely as possible. We emphasize plastic-free, reusable packaging by sharing our products in cotton bags and glass mason jars. Community members can find our products at the Rutland Farmer's Market, local Co-ops and cafes, and directly through our yearlong CSA, The Year of the Sprout. 
---
Ghost Dog Dairy - Hardwick, VT 
Owned and operated by the Fortmann Family, Ghost Dog Dairy seeks to build a harmony between two of the worlds most powerful natural foods, garlic and goats milk.  Steve, Kathy, and their three sons transitioned from life as a military family in 2016, moving from Hawaii to Vermont to begin building the farm.  Kathy studied sustainable agriculture at Sterling College using her GI Bill and was part of a program called GoFarm Hawaii.  Steve combines his military experience with some previous work on dairy farms.  They partnered with the Vermont Land Trust to preserve 134 acres of land, slowly improving degraded soils and starting a small goat herd.  The goats are raised on pasture and fed a unique diet which includes organic garlic.  The milk is fermented and bottled as a probiotic pet supplement called Farm Dog Formula.  Steve and Kathy aim to improve the lives of pets who may be suffering from a bland industrial diet and preserve the vanishing dairy traditions of the North East Kingdom.
---
Luna Bleu Farm - South Royalton, VT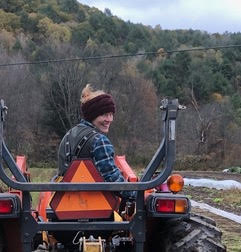 Luna Bleu Farm is a diversified organic vegetable and livestock farm in South Royalton, Vermont. It was founded by Tim Sanford and Suzanne long in 1988, and while the primary focus since then has been vegetables, they also raise grass-fed and finished cattle, and pastured pigs, broilers, and laying hens. Shona Sanford-Long grew up on Luna Bleu Farm but just returned in December of 2017 after four years of gaining experience working on other farms with livestock, and as a butcher. Shona hopes to use her livestock and butchering experience to grow those aspects of the farm, while also being involved in all aspects of vegetable operations.
---
Moosehorn Mountain Farm - Wells, VT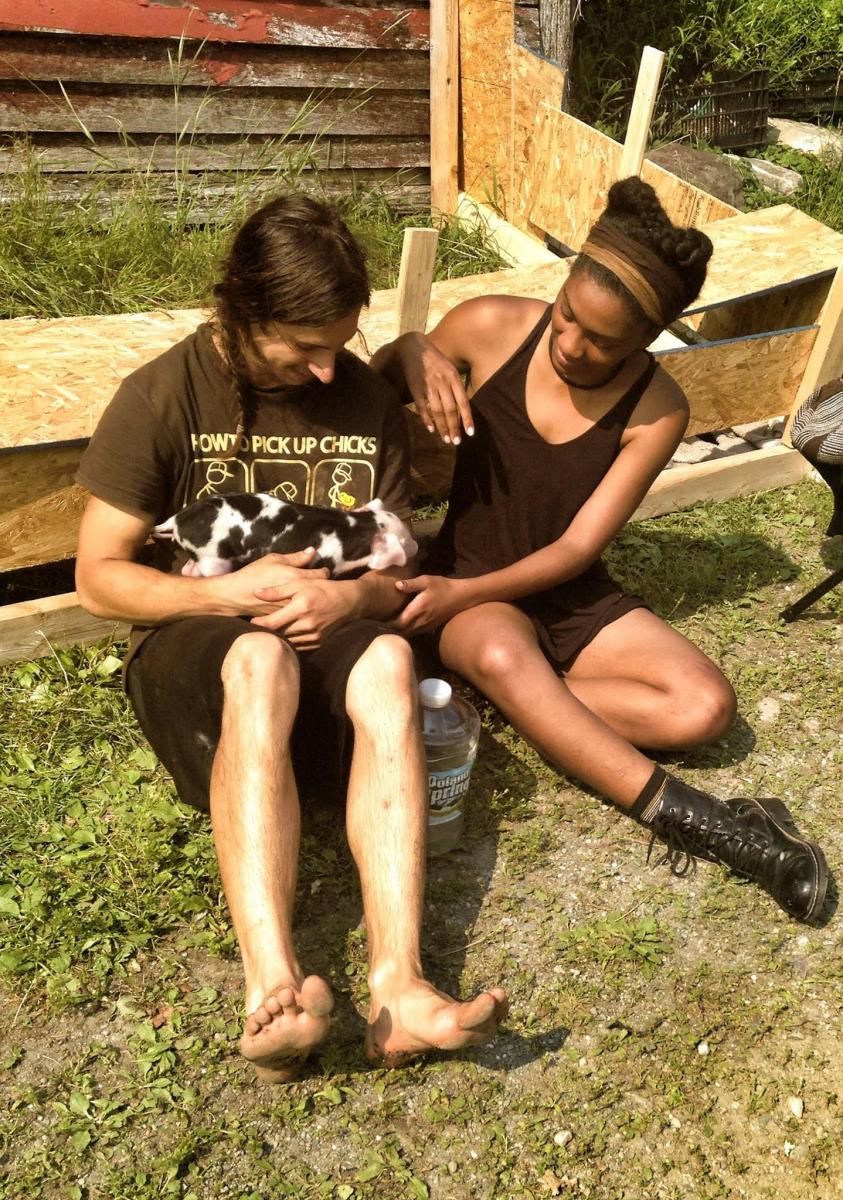 Moosehorn Mountain Farm is managed by farmers Andy Szentendrei and Darian Closson. They sustain a flock of laying hens, ducks, and silver fox heritage breed rabbits in Wells, Vermont. Moosehorn Mountain Farm is invested in providing quality farm products, and practicing methods of sustainable agriculture that contribute to the overall health of the land. Humane treatment of livestock remains a huge priority at Moosehorn Mountain Farm, and they strive to maintain their Animal Welfare Approved certification. They are eager to expand their operation into vegetable production, and have been in the process of constructing greenhouses so they can provide fresh vegetables year round! Andy has been farming for the past 5 years since moving to Vermont, and is well versed in farm related carpentry, construction, and animal care. Darian has a background in urban farming, food justice, and community herbalism through her time spent working at Real Food Farm located in her hometown, Baltimore MD.