Double the impact of your budget while buying direct from farmers!
When you spend $10 in 3SquaresVT benefits at a participating farmers market, you'll receive $10 in Crop Cash to purchase fruits, vegetables, herbs, and culinary seeds and plant starts! This means $10 In 3SquaresVT buys $20 in local food! 
Anyone who receives 3SquaresVT/SNAP benefits is automatically eligible to get Crop Cash at a farmers market—there is no additional application for this program.
3SquaresVT, also known as SNAP/EBT (formerly known as food stamps) helps limited-income individuals and families buy the food they need. Benefits are generally provided on a card that functions like a debit card, and are accepted at most grocery stores and many farmer's markets. Here is a list of food items that SNAP/EBT can buy.  For more information and assistance applying for 3SquaresVT benefits, visit the Vermont Foodbank website.
*Get even more Crop Cash! August 1st, 2022, through April 30th, 2023, you will receive $20 in Crop Cash for every $10 of SquaresVT benefits you use!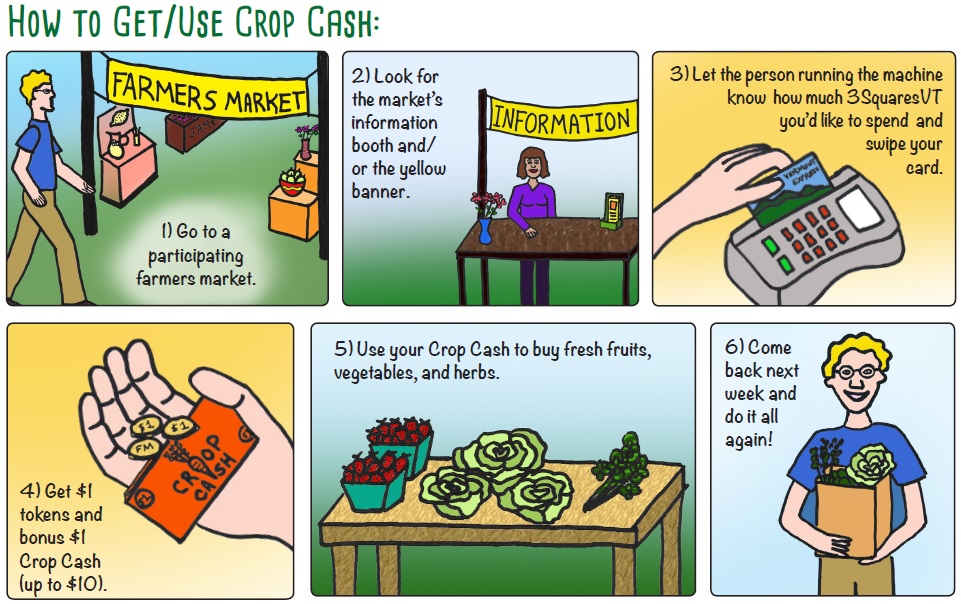 Winter Farmers Markets with Crop Cash:
Bennington Farmers Market (Nov. 5th, 19th, Dec. 3rd, 17th; 10am to 1pm)
Brattleboro Winter Market (Nov. 5th - March 25th; 10 am to 2 pm)
Burlington Farmers Market (Nov. 19th, Dec. 3rd, 17th; 11 am to 2 pm)
Caledonia Farmers Market Association (St. Johnsbury) (1st and 3rd Saturdays, Nov. 5th - Apr. 15th; 10 am - 1 pm)
Capital City Farmers Market (Montpelier) (1st and 3rd Saturdays, Dec. 3rd - Apr. 15th; 10 am - 1 pm)
Champlain Islands Farmers Market (Nov. 5th, 19th, Dec. 3rd, 17th; 10 am - 2 pm)
Dorset Farmers Market (Oct. 16th - May 7th; 10 am - 2 pm)
Middlebury Farmers Market (Nov. 5th - Apr. 29th;  9 am - 12:30 pm)
Northfield Farmers Market (Nov. 3rd - Apr. 5th; 5 pm - 6 pm)
Norwich Farmers Market (Twice per month, Dec. 17th - Apr. 15th; 10 am - 1 pm)
Putney Winter Farmers' Market (Nov. 20th - Dec.18th; 11 am - 2 pm)
Vermont Farmers Market (Nov. 5th - May 6th; 10 am - 2 pm)