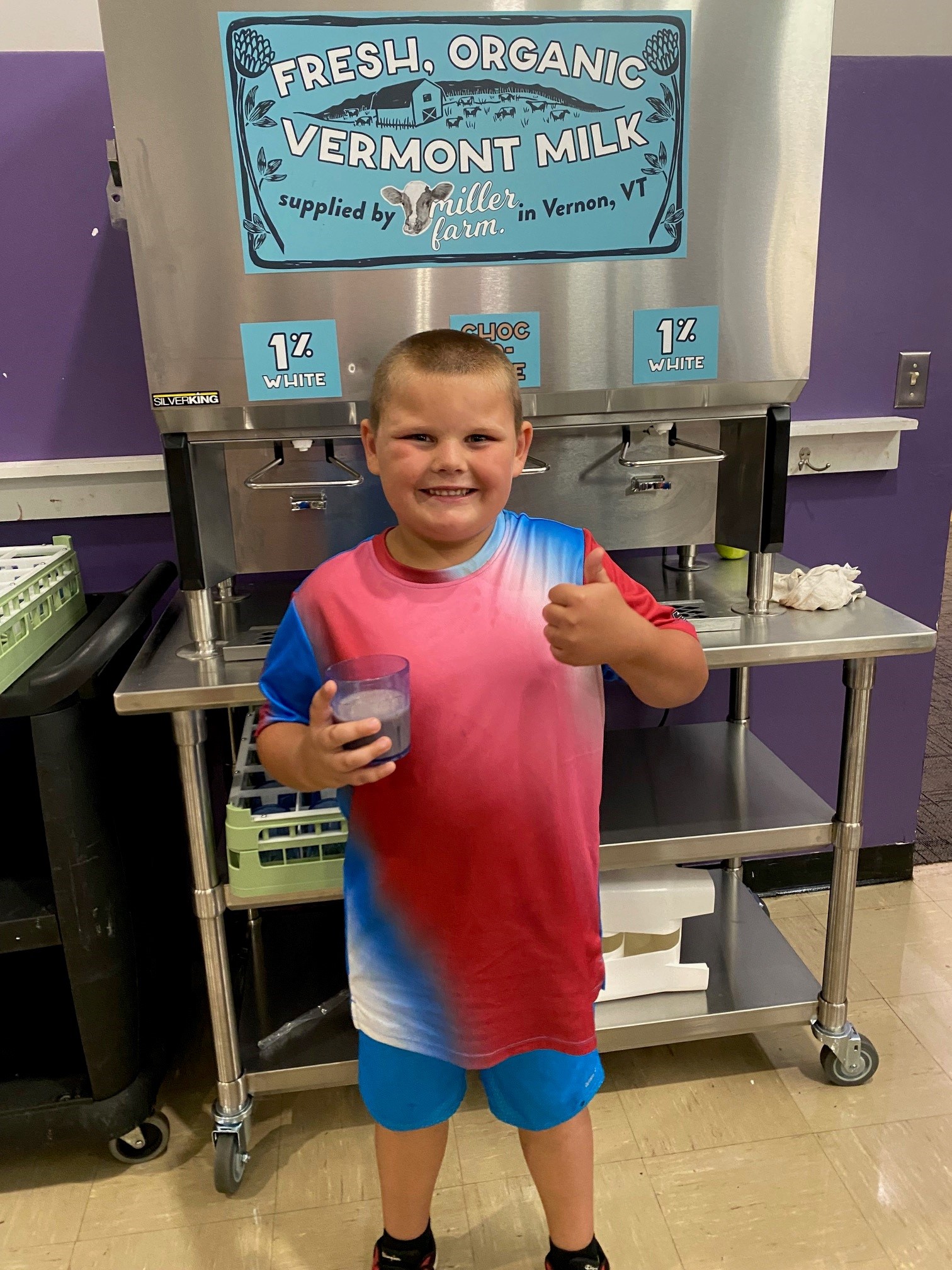 Opening day of the 2023-24 school year brought great 'moos' for hundreds of Vermont elementary and high school students: new organic milk dispensers in their cafeterias, not only introducing them to the benefits and great taste of fresh organic milk, but also helping the regional economy by providing milk sourced from a local certified-organic dairy farm.
Miller Farm in Vernon was able to make equipment upgrades needed to provide bulk organic white and chocolate milk to the schools thanks to $175,000 in funding from a Northeast Dairy Business Innovation Center grant. 
The Northeast Organic Family Farm Partnership, an organization with a mission to increase the demand for Northeast organic dairy, is spearheading this pilot program with collaboration from NOFA-VT. Gary Hirshberg, founder of the Northeast Organic Family Farm Partnership and former CEO of Stonyfield Farm, says it can provide the blueprint for similar local farm-to-school programs. The goal is not only to introduce youngsters to organic foods, but also help local economies by giving organic dairy farmers a financial boost through school sales.
In recent years, a combination of economic pressures such as inflation, the Ukraine war (a major source of the world's organic feed), trade disputes in India, increased transportation costs, labor shortages, and extreme weather events like the 2022 drought and 2023 flooding have pushed the cost of producing Northeast organic milk to a breaking point. The impact is especially evident in Vermont, where 62 organic dairies closed between January 2020 and August 2023.
Projections by NOFA-VT indicate that an additional 30 organic dairies may be lost by the end of 2023, a trend mirrored in other Northeastern states. The consequences of these closures are far-reaching, including severe economic repercussions for rural communities in the Northeast, potential loss of vital ecosystem services like carbon sequestration and habit conservation, and a greater reliance on products from farms located thousands of miles away, resulting in longer and more complex supply chains.
Lauren Griswold, Local Food Access & Farm to Institution Program Director at NOFA-VT and key contributor to the pilot, explains, "This project is about Vermonters taking care of Vermonters. Our schools spend $20 million on food per year, so there's tremendous potential in localizing that spending to benefit our farms and our kids. NOFA-VT is thrilled to support this project that does just that, especially for Vermont organic dairy, given the past few years."
Schools participating in this year's pilot program, all part of the Windham Northeast Supervisory Union (WNESU), are Westminster Center School and Bellows Falls Union High School in Westminster, Rockingham Central Elementary School in Bellows Falls, and Saxtons River Elementary School in Saxtons River.
On the first day of school this year, the response to the new Miller Milk dispensers was joyous, from both staff and students. Rather than grabbing milk in cartons—one of the most wasteful components of school meals—kids filled up cups at bulk milk dispensers, lining up to grab cupfuls of fresh milk. Harley Sterling, the WNESU School Nutrition Director and a key pilot partner, says the school district is "thrilled" to offer local, organic milk to the students and connect local dairies with public schools, "the largest institutional buyer of milk in most Vermont towns."
Says Pete Miller of Miller Farm, "This model of local small processors working with area schools could be replicated across the nation. It's so important for each generation to know where food comes from: when people can draw a straight line between a product and a producer, there is built in a certain amount of accountability and trust."