Details
Image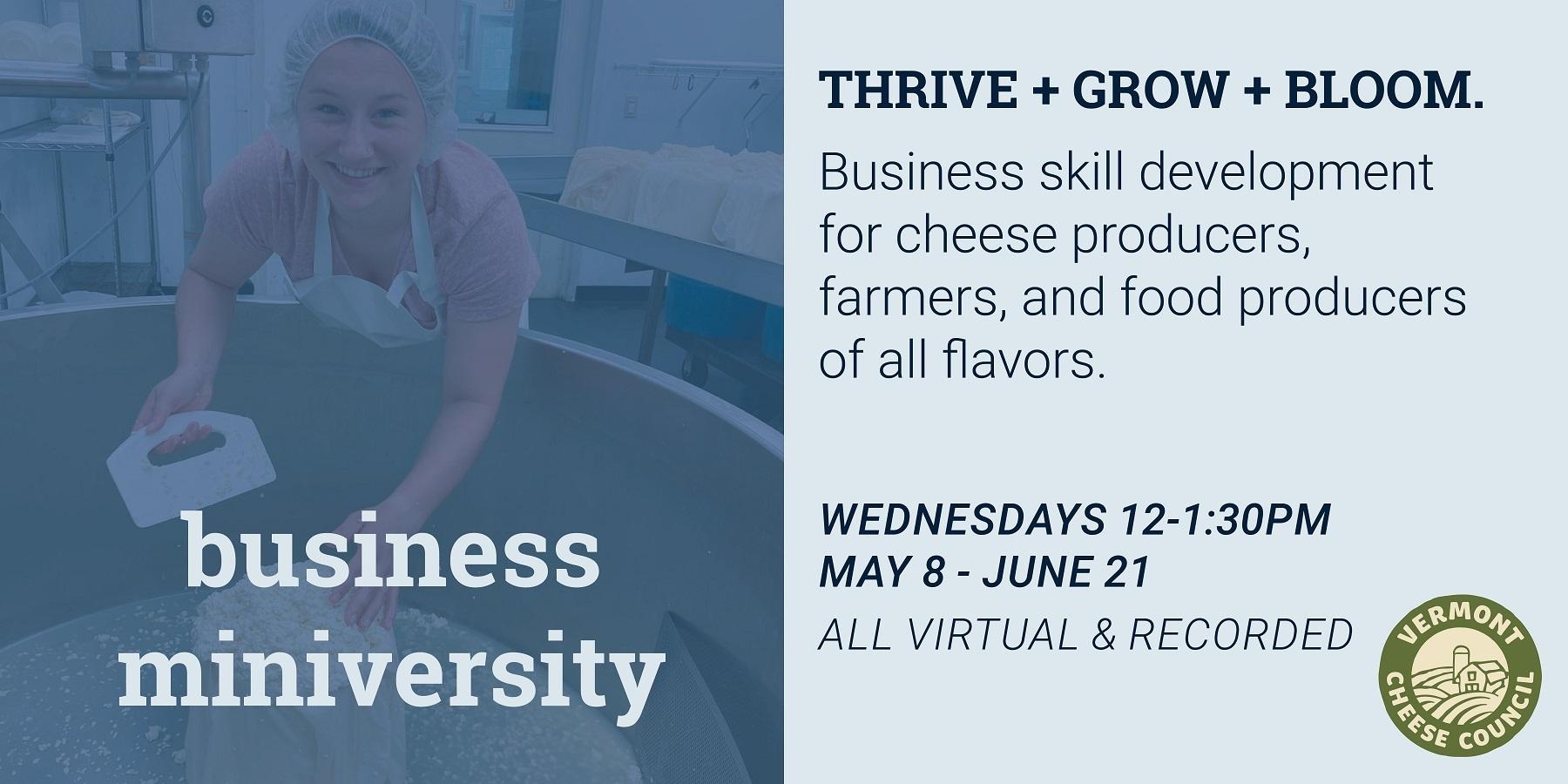 Vermont Cheese Council is hosting a Business Miniversity this spring to provide valuable business skills training to cheese producers, farmers, and food producers. Although cheesemakers are VCC's primary audience, with sessions like Project Management, Strategic Planning, and Managing Your Team, this training is suitable for (and can be attended by) food industry professionals/managers and small business owners of all flavors!

This 12-session program runs on Mondays and Wednesdays from May 8 to June 21 (with Memorial Day and Juneteenth off). All sessions are virtual, each running for 90 minutes beginning at 12:00 noon Eastern Time.

Other topics to be featured are Recruiting, Onboarding, and Culture; Healthcare Options for Producers; Creating Brand Awareness; Sustainability of Producers and Work-Life Balance; Applying for (and Implementing) Grants and Other Funding Resources; and more! Leading the sessions are experts from such organizations as Vermont Manufacturing Extension Center, FarmFirst, Place Creative Company, Vermont Farm & Forest Viability, and Vermont Legal Aid's Office of the Healthcare Advocate.

Registration for the Business Miniversity only costs $100 per person for the entire slate of 12 sessions. (Passes for additional viewers sharing the same screen can easily be purchased on the main registrant's purchase page.) All sessions will be recorded for viewing through the end of July if you happen to miss any while they are broadcast live.
Vermont Cheese Council and its Business Miniversity sponsors have made available several full-tuition scholarships to farmers or food producers from the BIPOC community. For more information on requesting a scholarship, email Claire Natola, VCC's Education Coordinator, at [email protected].

Sponsored by Organic Valley, Cabot Creamery, and Passumpsic Bank, the Business Miniversity is designed to inspire, to educate, and to strengthen the businesses that Vermont Cheese Council is proud to support. For more information, visit https://vtcheese.com/business-miniversity/.