"This section of the Brookmead Food Pantry Garden is dedicated to our partnership with the Nulhegan Band of the Coosuk-Abenaki Nation, Rooted in Vermont, and NOFA-VT to provide healthy foods to Abenaki citizens. The Nulhegan tribe's Abenaki Land Link Program provided Indigenous seeds of their crops for us to grow. In turn, UVLT will donate the produce and seeds back to the Nulhegan Band for the exclusive use by Abenaki citizens and future growers." 
—Sign at the Upper Valley Land Trust's Brookmead Conservation Area 
The growing and harvest season for the Abenaki Land Link Project is wrapping up. In its second season, it's been an exciting year! The project grew from 15 growers around the state in last year's pilot to almost 40 gardeners and farmers this year. The growers persevered, as some experienced 16 inches of rain in July, had their crop devoured by a bear, and waited and waited for the latest frost on record.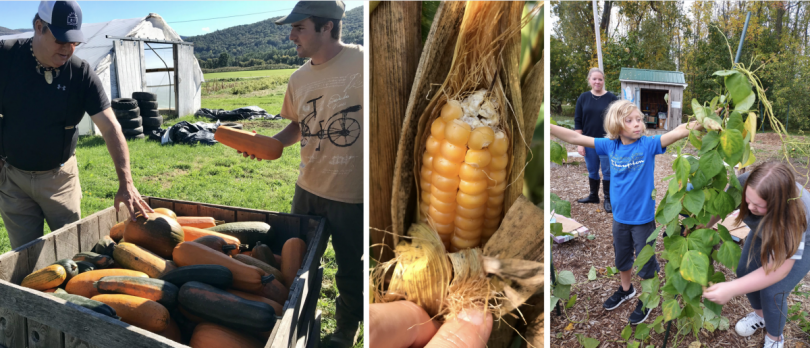 Chief Don Stevens and Jake Kornfeld, farm manager at VYCC in Richmond, with squash grown by Intervale Community Farm in Burlington; corn drying on stalk; students tending beans at South Hero Land Trust.
Food has always meant many things. Food is nourishing, it's medicine, it brings us together. Food is intertwined with culture and connects us to the land. We are all more resilient when everyone has their needs met and food is one of our most basic needs. In this project, growers have shared their resources, time, skills, and land to grow Algonquin squash, Koasek Calais Mix corn, Calais Flint corn, True Cranberry beans, Skunk beans, and Vermont Mohawk beans.
This is an opportunity for the growers, as attendants for the land that has for millennia been stewarded by Indigenous people, to recognize the privilege they have to grow food - an option not currently available for many Abenaki citizens in Vermont. By participating in the Abenaki Land Link Project, growers are doing so in solidarity with the Nulhegan Band of Coosuk - Abenaki Nation to build a more resilient food system.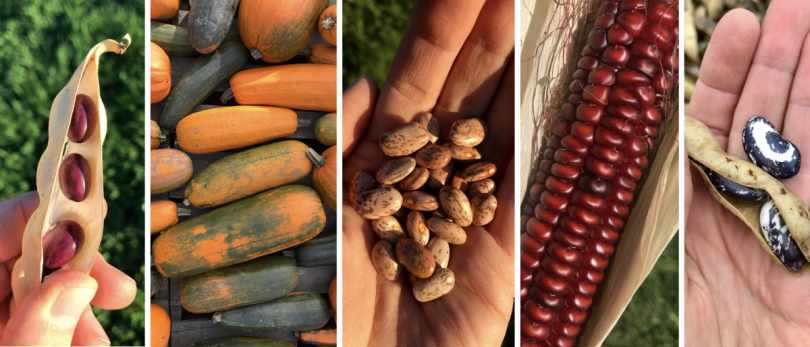 Varieties pictured: True Cranberry bean, Algonquin squash, Vermont Mohawk bean, Koasek/Calais corn, Skunk bean.
Growers are located across the state and range from backyard gardens, Land Trust properties, school gardens, and commercial farms.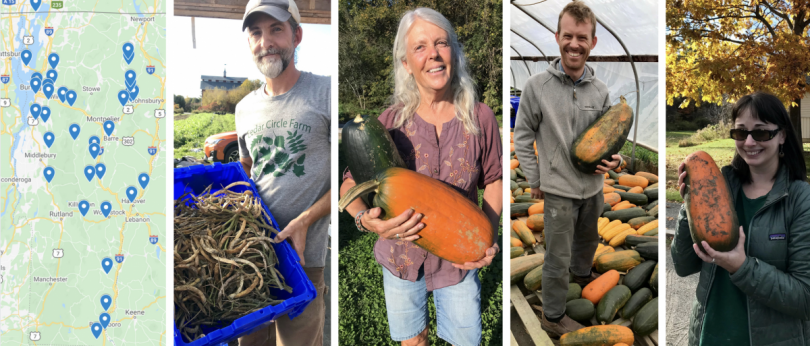 Map of grower locations, growers pictured: Shawn from Cedar Circle Farm in Thetford; JoAnne from Common Roots in S. Burlington; Peter from Healthy Roots/West Farm in Westford; Alison from Upper Valley Land Trust in Norwich.
"The Abenaki Land Link project gave students a chance to be involved in real, important work done in partnership with local Abenaki leaders. From an education perspective, the project also gave us a tangible way to explore and grapple with these oftentimes difficult conversations around the theft of land, the ongoing attempted genocide of native cultures, current issues around land access and justice, and food sovereignty, in a local and contemporary context. In the spring we worked with 3rd and 4th graders to plant the true cranberry beans. Then, in the fall, we came back with the same students to harvest them. It was so much fun to watch them marvel at how much the plants had grown." - Guy Maguire, South Hero Land Trust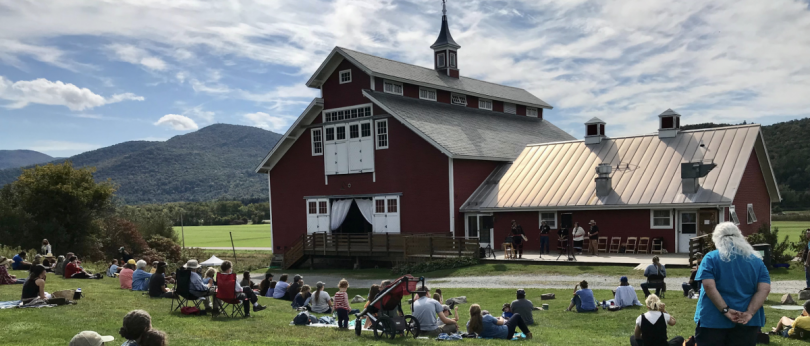 2021 Harvest Festival at the Farm at VYCC in Richmond, VT
In September, we held a harvest festival to celebrate the season and project. Overlooking the beautiful fall foliage on a gorgeous, sunny day, 120 people gathered at the farm at the Vermont Youth Conservation Corps (a Land Link grower). Chief Don Stevens, Chief of the Nulhegan Abenaki and the Executive Director of their nonprofit, Abenaki Helping Abenaki, led the day and shared stories like the Corn Mother. Alnôbaiwi, a nonprofit dedicated to preserving Abenaki cultural heritage, shared some of the Green Corn ceremony, stories, and music. Attendees participated in a corn processing demonstration, enjoyed field walks across the property, and sampled the project's harvest.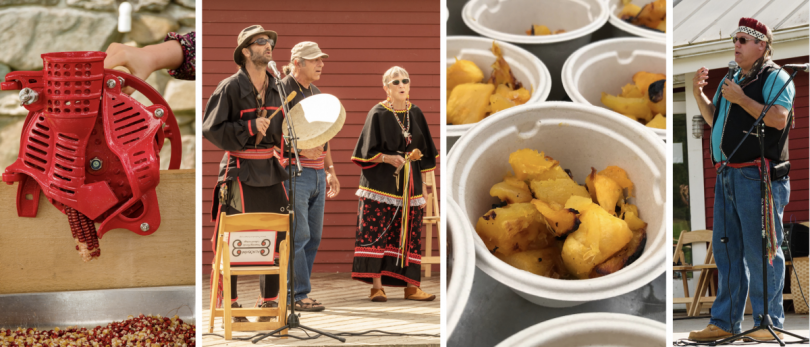 Abenaki Land Link Harvest Festival: corn processing, Alnôbaiwi performance, food samples, storytelling with Chief Don Stevens by Diane Stevens Photography.
Harvesting beans on a frosty morning at Cloud Water Farm in Warren.
Before the crops can be stored and then distributed throughout the winter, they need to be processed. About thirty growers, project partners, and volunteers met in early November to thresh and winnow the beans as well as husk and shell the corn. The squash will be distributed fresh throughout the fall and the remainder will be peeled, cubed, and frozen to make sure it can be eaten for many more months. Over 3,600 pounds of squash has been harvested so far this season, with some of the largest weighing 15 pounds each!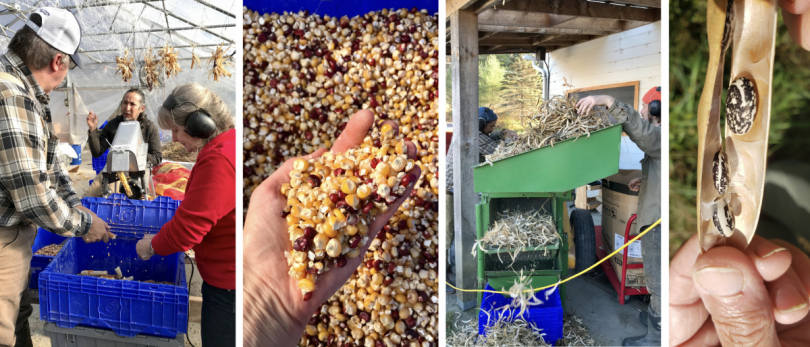 Processing day: shelling 140 pounds of corn and threshing beans.
"We always work towards being a part of a larger network that builds resiliency and sovereignty in our food system, and the Abenaki Land Link Project does just that." - Christine Porcaro, The Healthy Roots Collaborative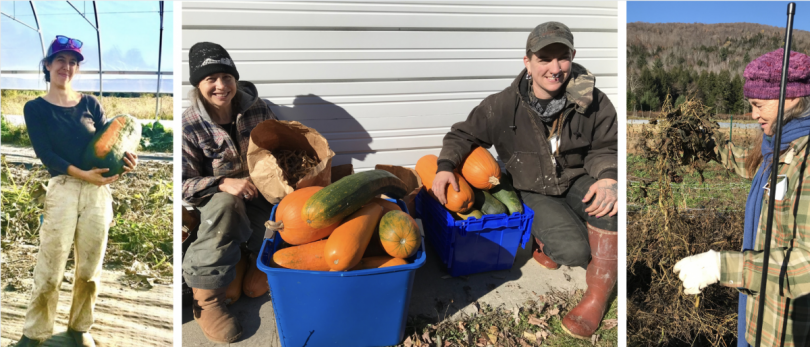 Project growers: Caitlin from Gildrien Farm in Leicester, Jude and Mo from Milkweed Farm in Cabot, Peggy from Newfield Herb Farm in Craftsbury Common.
"My feelings about land ownership are fraught and complicated; I deeply and fiercely love this land, and I know I can only "own" it because long ago it was stolen. I am grateful to this project for the opportunity to put some of my labor and the bounty of this soil into the hands and bellies of Vermont's Native people. It doesn't solve the conflict at the heart, but it feels like one small step toward reparations, or paying toward an unpayable debt, and also something I owe to the land itself, somehow. I hope to have the opportunity to participate next year and going forward." - Caitlin Gildrien, Gildrien Farm
This project centers around relationship building and our partner connections continue to grow! NOFA-VT coordinates and communicates with the growers. Chief Don Stevens distributes the harvest to Abenaki citizens via three food shelves as part of the food security program of the nonprofit, Abenaki Helping Abenaki. Vermont Youth Conservation Corps graciously provides space in their farm's propagation house to cure and dry the crops. Joe Bossen generously lends his facility at Vermont Bean Crafters to process the harvest. The partners are dedicated to continuing this project next year.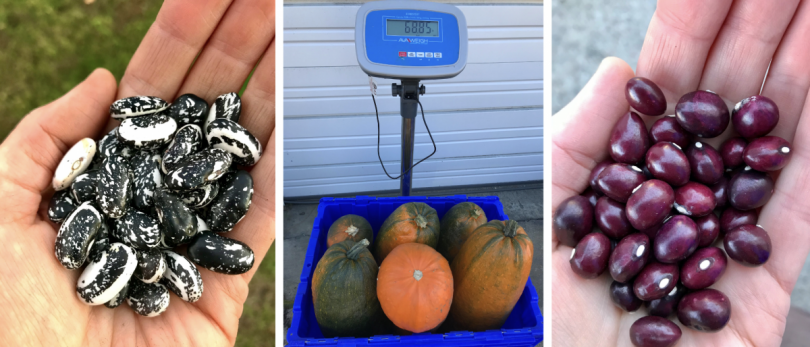 Skunk beans, weighing Algonquin squash, True Cranberry beans.
Learn more about the project and this growing season at an upcoming online event! Join us for NOFA-VT's Agricultural Literacy Week on Thursday evening, November 18th, to hear from Chief Don Stevens and three featured growers. Please pre-register here.
Thank you to City Market for their generous support of the Abenaki Land Link Project with their Seedling Grant Program.
Project growers: Nathan and Sarah from Hillside Botanicals in Randolph, Sarah from Provender Farm in Cabot, Jon from Wild Roots Farm in Bristol dropping off a carload of Algonquin squash.