It's not news that school meal programs are often strapped for cash. When asked, "what barriers do you face to purchasing more local foods for your school meal programs," most school nutrition professionals respond with "cost." In recent years, schools and Farm to School advocates have looked to the state government for support. 
Vermont lawmakers heard this call to action and made a commitment to supporting farmers and schools by establishing and funding a Local Foods Incentive Program, providing $500,000 for the program in fiscal year 2022 and now, again in 2023. This new grant program provides a direct incentive to schools that meet local purchasing targets in their school meal programs, allowing them to serve more fresh Vermont food on their menus. The program not only increases student's access to local foods, but also creates a reliable market for Vermont farmers and other producers. The Vermont Local Foods Incentive is a win for Vermont farmers, the economy, and our kids!
In the first year of the Local Foods Incentive Program, we have worked closely with school nutrition professionals, farmers, and other Farm to School stakeholders across Vermont to support the successful rollout of this groundbreaking program. We reached out to every school district and supervisory union in Vermont to encourage and support their participation. We also developed a local foods tracking tool, a list of foods that meet the required "VT Local" definition, and a resource website. While the work itself wasn't often glamorous (lots of spreadsheets were involved), the initial result was that nearly half (23 out of 51) of Vermont's school districts and supervisory unions applied for the grant this year, with even more poised to do so next year!  
So, how does the Local Foods Incentive Program "pay off"? We know that when school meals improve, more students choose to eat the meals. When student participation increases, more revenue is generated for the program, which can then be reinvested in buying more fresh, local ingredients from Vermont farmers, setting off what we like to call, "The Virtuous Cycle of Farm to School"! And, when national supply chains break down like they did during the pandemic, we've seen many Vermont school nutrition programs rely on purchasing directly from local farmers and producers in their communities and through our network of regional food hubs. Supporting schools to buy more local foods isn't just a nice idea—it is a concrete way to create sustainable food systems within our school communities, support our farmers, keep more of our money local, and build up the localized alternatives that are critical during times of crisis.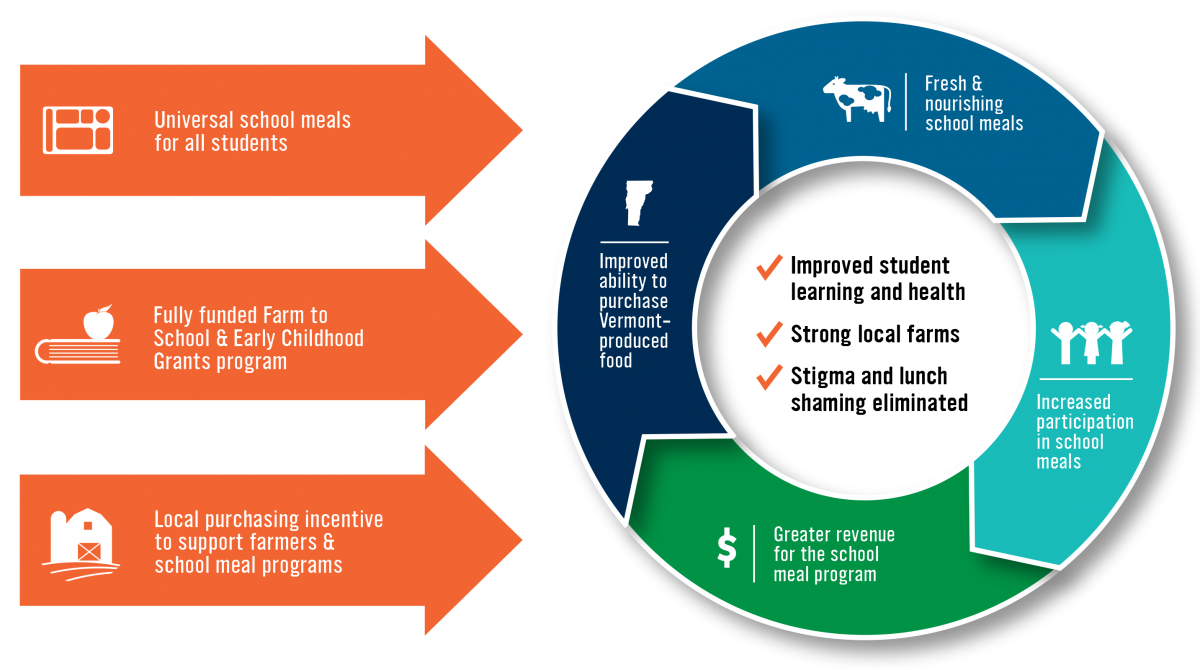 School Nutrition Professionals have so much on their plates. Between paperwork, ordering food, making and serving meals, and navigating ever changing COVID safety requirements, it is essential to offer support so that they don't miss out on opportunities like the Local Foods Incentive. The weight of the work that goes into building an economically viable, ecologically sound and socially just Vermont agricultural system cannot fall on the shoulders of individuals. A systems approach to change calls for a system of support.
The success of the first year of the Vermont Local Foods Incentive Program has been a collaborative effort. This program has been supported by the Vermont Agencies of Education and Agriculture Food and Markets, farmers and food producers, food distributors and food hubs, school nutrition professionals, and many other food system organizations and partners. We are grateful to be a part of a network that is working hard to ensure children in Vermont have nutritious foods available to them every day and farmers are able to be a part of the solution. 
Providing supervisory unions and school districts with this grant opportunity is essential for feeding more Vermont kids with fresh, local food and directing more dollars to Vermont farmers. In conjunction with other Farm to School programming, we're excited to see the Local Foods Incentive Program accelerate the transformation of cafeterias, classrooms, and communities in Vermont. Onward!
 
____________________________________________________________________________
Are you a Vermont farmer or food producer interested in working with schools? Please reach out! In particular, schools are looking for more local, lean meat proteins like ground beef and chicken. We're here to make sure you have the tools to connect with school nutrition programs and help increase Vermont kids' access to nutritious, local meals.
Helen Rortvedt: [email protected] or 802-434-7166
Kayla Strom: [email protected] or 802-434-7176