About the Farm
We are a small 4-season certified organic farm focusing on regenerative agricultural practices that work towards farming for the future and creating food that is truly medicine. We currently are producing vegetables, Mushrooms, eggs and fruit.
We have CSA pick up sites in Brookfield, Montpelier, and Burlington, year round. Check out our Year round CSA member share!
Products Offered
Berries
Beverages
Bread and other prepared food
Cheese
Eggs
Fish
Flowers
Fruit
Grains
Honey
Maple
Milk
Mushrooms
Poultry
Preserved goods
Red Meat
Vegetables
All organic certified products
Beans, green,Beets,Bok choy,Broccoli,Brussels sprouts,Cabbage, green,Cabbage, Napa,Cabbage, red,Carrots,Cauliflower,Celeriac,Chicken: eggs,Chicken: replacements,Cilantro,Claytonia,Cucumber,Dill,Eggplant,Garlic,Greens, salad mixes,Haylage,Kale,Leek,Lettuce (head),Mushrooms, Chestnut,Mushrooms, Lion's mane,Mushrooms, Oyster,Mushrooms, Shiitake,Oregano,Other,Parsley,Pasture,Peas, snap,Peppers (hot),Peppers (sweet),Potatoes,Radishes,Ramps, wild,Raspberries,Scallions,Shallots,Spinach,Squash (summer),Squash (winter),Strawberries,Swiss chard,Thyme,Tomatoes (greenhouse),Tomatoes, cherry
Sells all certified-organic products?
No
Sells both organic and non-organic products?
Yes
Sells no certified-organic products?
No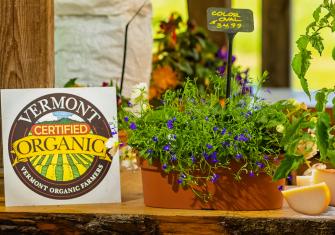 Address
1102 Stone Rd
Brookfield, VT 05036
United States
Dates Available for farm stands
Dates Available for CSAs
Pick up times every week/every other for all CSA shares and seasons:
Tuesdays 4 – 8 pm on farm – 1102 Stone Road, Brookfield, VT 05036 (Year-round at the farm store)
Tuesdays 4 – 6 pm Pick up locations in Montpelier, Northfield, and Waitsfield
Thursdays - 2-6pm - Pick up location in Burlington or at Farmers Market on Saturdays 9-1pm.
Seasons Available
Spring
Summer
Fall
Winter
Instagram
https://www.instagram.com/1000stonefarm/