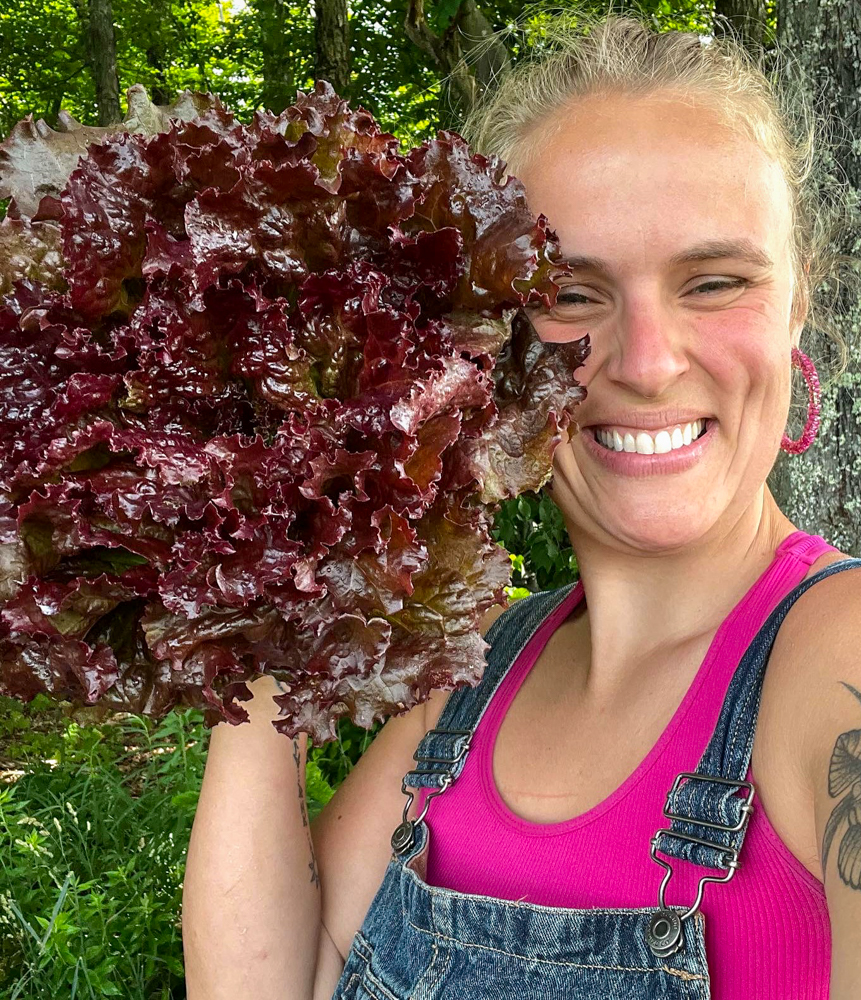 This spring, NOFA-VT welcomed Emma Bliss as a Policy Intern to support our state advocacy efforts and get familiar with the state legislature.
Emma Bliss co-owns and operates East Hill Farm in Andover, Vermont and is a student in Vermont Law and Graduate School's Master of Food And Agricultural Law and Policy (MFALP) program. She is also the co-researcher on a Farm and Food System Assessment sponsored by the Brattleboro Town Planning department. Emma has been working with NOFA-VT in the state house during the 2023 legislative session, tracking and reporting on a number of bills including the Right to Farm, Community Resilience & Biodiversity Protection, Small Farm Diversification and Transition, Agriculture & Nutrition Education, and more. We are so thrilled to have Emma working with us this session and are excited to share a bit more about her with the NOFA-VT community. 
In addition to being a student at Vermont Law and Graduate School, you operate a small farm. Can you tell our readers a little about your farm, what you grow, and your goals for the farm and its future? 
    We grow diversified vegetables on one acre and are going into our third season running a CSA! I run it with my mom, growing on land that's been in my family since the 50s—we are truly a family farm and are navigating all the challenges that come with multigenerational succession planning! Over the last couple years, we have been converting our vegetable operation to a no till method; we want to grow in a way that feels more aligned with our values of biodiversity protection and be more adaptable to the growing unpredictability of climate conditions. We have really begun to feel the impact of climate instability in a practical sense, and it feels essential to incorporate climate smart farming practices into our planning. If you want to see more, visit our website easthillvt.com. 
What are your favorite parts of farming? What are some of your challenges?
    As someone who hopes to dedicate my life to promoting and protecting the work of local producers and their access to land/resources, it's important to me to practice the thing I'm protecting. Beyond this ideological commitment, I love the magic of fostering a living thing from seed form into something that feeds my community– it truly feels like a miracle every time, and is rewarding in a very fundamental way. There are of course so many challenges to the local food system, and so many of them come down on the heads of producers. I am very privileged to have access to land, something many aspiring farmers do not, but I struggle frequently with a lack of financial capital one needs to grow a business, including building needed infrastructure. Farming is not only hard physical work, but also incredibly challenging from a business and planning perspective. Although I've been a hired farm hand for many years, it's a whole other ball game to run my own!
What inspired you to enter the MFALP program, and what's one major takeaway you have so far about food and agriculture law and policy in the U.S.? 
    Law and policy underpins much of the practical work within the food system. It can create barriers and complications or can make pathways for more effective work. Having worked on farms and at food nonprofits for almost a decade, I have frequently felt the ghost of this structure, how impactful it is to daily operations and yet mysterious to untangle. I want to understand this system so that I can advocate for laws and policies that support the wonderful work that is possible and is already underway. Fundamentally, becoming a student in this program is part of my dedication to a food system that supports farmers, feeds people equally, and protects our natural world. 
What's one thing that has surprised you during your time working in the legislature this session? 
     Having studied both the federal legislative process and Vermont's legislative process, I feel a lot of hope about the capacity this state has to address the needs of producers and communities. Viewing Vermont from the perspective of the national local food movement, it's amazing to see how radical, inventive, and vibrant the agricultural sector is in this state. Much of this is due to grassroots organizing and industry innovation. Seeing how much impact stakeholder testimony has on the drafting of laws in committee sessions is encouraging—it appears as though Vermont representatives really recognize the important role agriculture has not just for the identity of the state but also its potential role as a significant contributor to economic stability and growth. 

 
How do you think policy is currently impacting small farmers in Vermont, and how do you hope it can shift in the future to better support farmers and keep our communities fed? 
     Access to land and capital for new and beginning farmers is a flagship issue that many in the agricultural side of the Vermont legislature feel will be essential for the continued growth of the local food system, and is of particular interest to me. I think that this one issue has the power to make or break the future of agriculture in this state, especially as a whole generation of farmers look to retire. What will happen to their land and who will have the financial resources to buy it? There hasn't been a clear solution presented yet, but it continues to be an issue that is raised consistently, with many feeling the pressure to ensure that more prime agricultural land is not lost to development. I truly believe that Vermont has the capacity to be on the cutting edge of food system innovation, but it will need investment from the legislature to develop the needed infrastructure and eliminate barriers like land and capital access. I will be watching and working to ensure agriculture continues to be a cornerstone of Vermont's identity, economy, and land base!