Get these monthly dispatches from farmers right in your inbox by subscribing to News From the Farm! This newsletter is written for kids and those who care for them.
March 20th, 2023
Dear Friend of NOFA-VT,
It's still winter in Vermont. There is a dripping of water off the roof. We see green ferns around the bases of large leafless trees. We are told that many wild animals will be waking up from their winter naps soon. We eagerly watch for changes of the season.
But we keep busy here on the farm. There is just so much watching and waiting we can do! Late winter is the perfect time to give branch cuts to our our grapes, elderberries, apples, cherries, service berries, and hazelbert nut plants. This is called pruning. When the plant is not growing, also known as "dormant", we can easily see how the woody plant wears its branches. In order to make the proper pruning cuts, we look for the five big D's; We want to get rid of dead, dying, diseased, damaged and deformed branches. (Say that five times fast!) We also want to give each branch as much sun as possible. So to the five D's, we also add an S for sunshine!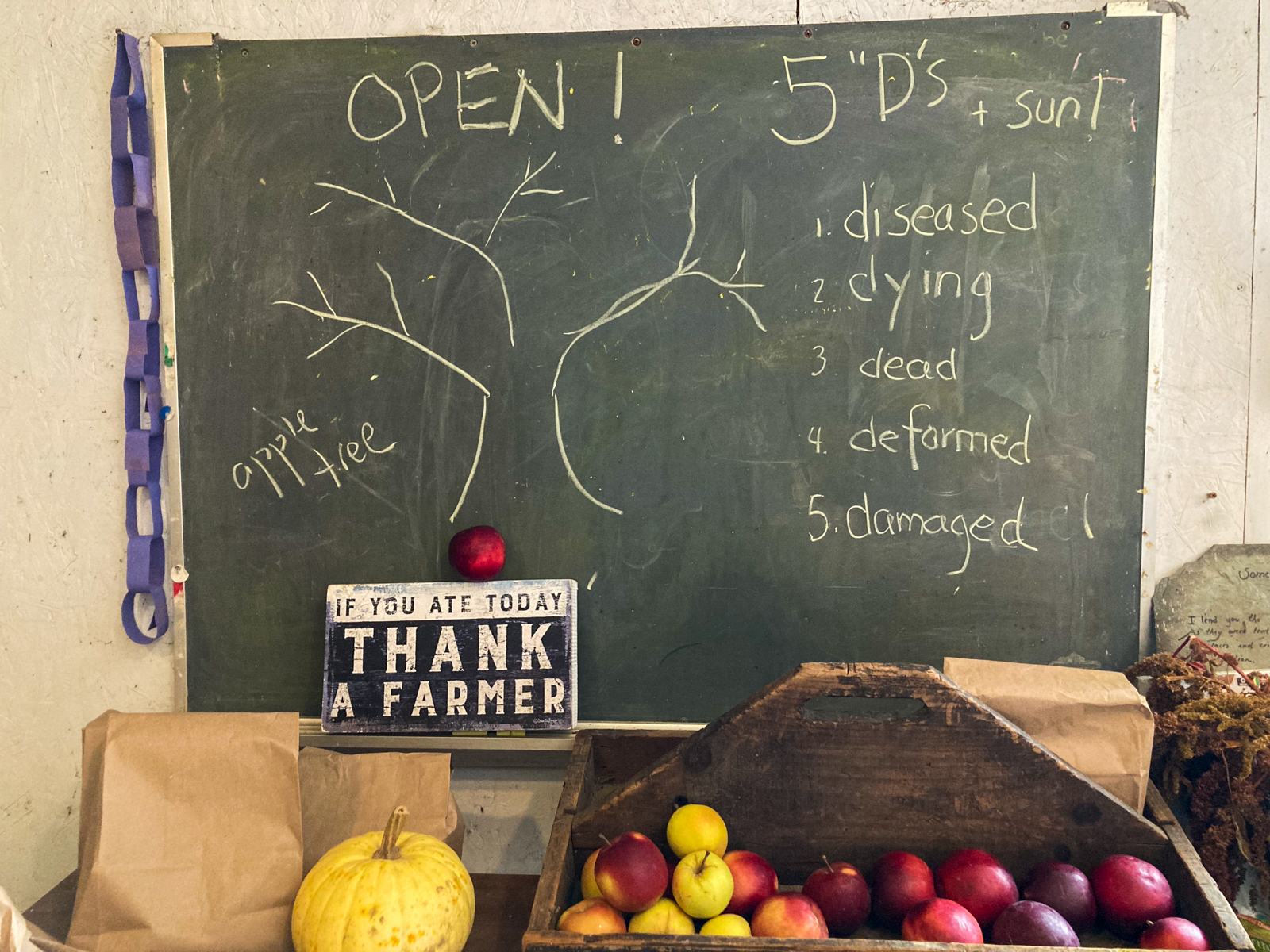 In pruning, we are trying to keep our fruiting plants healthy. Pruning trees, bushes, and vines helps them produce a lot of fruit and for as many years as possible. Of course, we want our vines and trees and shrubs to look lush and green and with new growth come summer. That's the aesthetic we strive for.
Almost as important as all of the above reasons to prune our fruiting plants is the need to reach our harvest! We want to be able to harvest our fruits without tall ladders. A bit of climbing up apple and cherry trees is a-OK (and yes, FUN!), so thick, sturdy, straight branches are mandatory for this climbing family! Grapes need to be reached by the youngest farm members though. The cherries need to be easy to see so we prune outward and not upward. Oh, what we do for the youngest and hungriest children.
So when you eat fruits, think of the folks who tended the plants that grew your delicious treats. As we dollop applesauce onto our pancakes and spread elderberry jam on our toast, we smile to think of the fun times we had in this "between-season" season.
Here's to keeping busy all times of the year,
Scout and Maria from Someday Farm
---
In this month's video, the Someday Farm crew shows us the ins and outs of pruning! Join them as they get their trees and shrubs ready for spring.
---
Recipe: Applesauce Brownies
Ingredients:
1/2 cup (one stick) butter
1 1/2 cups brown sugar
1 cup applesauce
2 eggs
2 tsp dark maple syrup or vanilla extract
1 1/2 cups flour
1/ 4 cup unsweetened cocoa powder
1 tsp baking powder
1/2 tsp baking soda
1/2 cup chopped nuts or seeds - almonds, pecans, sunflower seeds
 
Directions:
Preheat oven to 350 degrees. Grease and flour 8" square baking dish.
Melt butter in saucepan, remove from heat, and beat in sugar, applesauce, eggs, vanilla extract or maple syrup.
Sift in the flour, cocoa, baking powder and soda. Stir and add nuts or seeds by folding.
Pour batter into dish. Bake 25-30 minutes and until knife or toothpick probed into center comes out clean. Cool and then cut.
---
Activity: Tree Treasure Sculptures
Materials:
Twigs, leaves, rocks and other natural objects found outside
Yarn, glue, tape, wire and other fasteners
A piece of heavy cardboard or two paper plates
Directions:
With adult help, collect natural items from outside, the more varied the better.
Back inside, use the found objects to create a sculpture. Adhere the creation to cardboard or doubled paper plates.
Give your creation a name. Share your sculpture with others. Ask them to make one of their own!