It is a warm day in late September as I wrestle open a tent behind the West Monitor Barn at the Vermont Youth Conservation Corps in Richmond, VT. Chief Don Stevens of the Nulhegan Band of the Coosuk Abenaki arrives and begins unloading items from his truck: a corn sheller, a grain mill, corn husk dolls, and buckets of beans. He arranges them thoughtfully on tables as Patrick Lamphere, an Abenaki craftsperson, walks by, huge storage container in tow. I jog over to offer a hand. "Careful," he advises, "these are priceless," pulling out an exquisite wood-carved bowl. Members of Alnôbaiwi, an organization that shares Vermont Abenaki culture and heritage, are setting up on stage as the hillside fills with people gathering for the second annual Harvest Celebration of the Abenaki Land Link Project.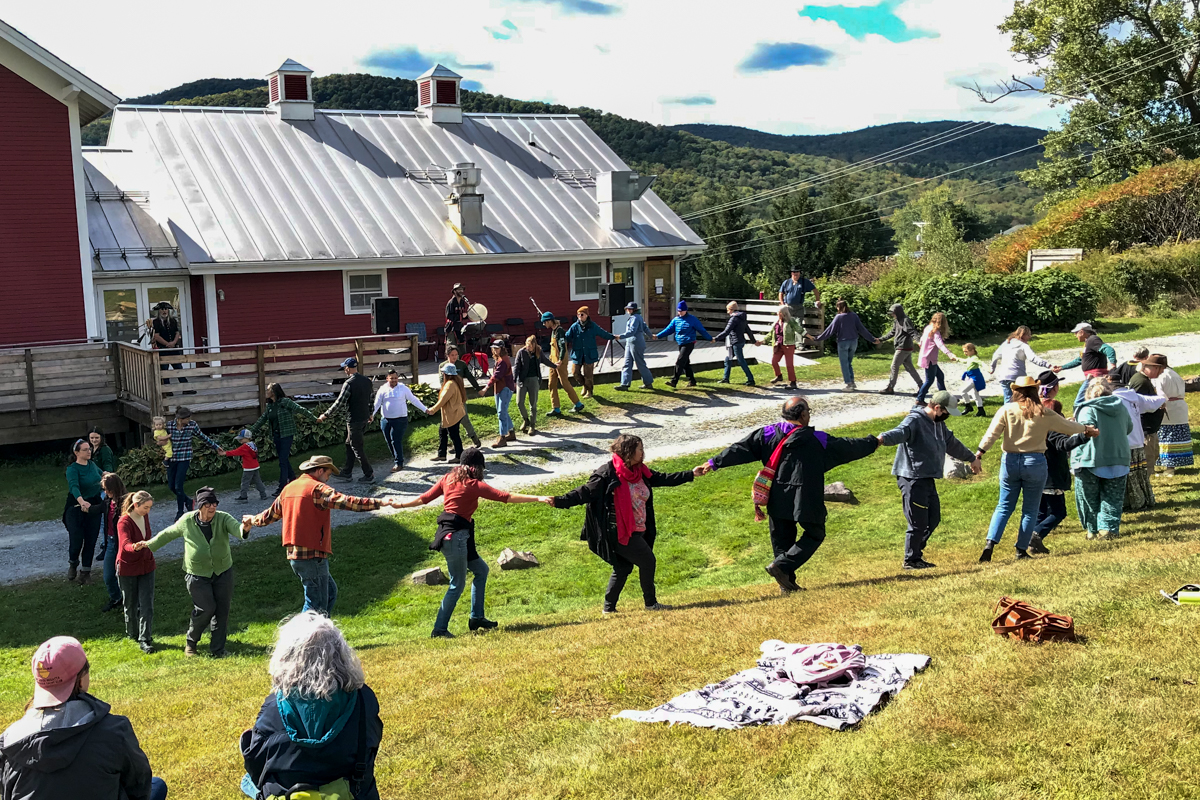 The Abenaki Land Link Project is a food security project of Abenaki Helping Abenaki, a nonprofit devoted to preserving the culture and uplifting members of the Nulhegan Abenaki Tribe. Chief Stevens, who directs the nonprofit, began seeking partners to grow Indigenous crops in 2018, working with Sterling College and Fred Wiseman's Seeds of Renewal project and, later, the Knoll at Middlebury College. The Abenaki Land Link Project, launched in 2020, builds upon these collaborations with the goal of securing fresh, culturally-important food for Abenaki community members while providing educational and relationship-building opportunities for growers. NOFA-VT partners on this project and coordinates growers and helps shepherd the crops through harvest and processing.
In its third year, the project involved nearly 50 growers across the state, the largest number yet. As in previous seasons, seven seed varieties were distributed: Calais Flint and Koasek Corn; true cranberry, skunk and Mohawk Beans; and Algonquin Squash. While several participants focused specifically on growing for seed, most grew food crops to be distributed to Abenaki community members by Chief Stevens and through food shelves.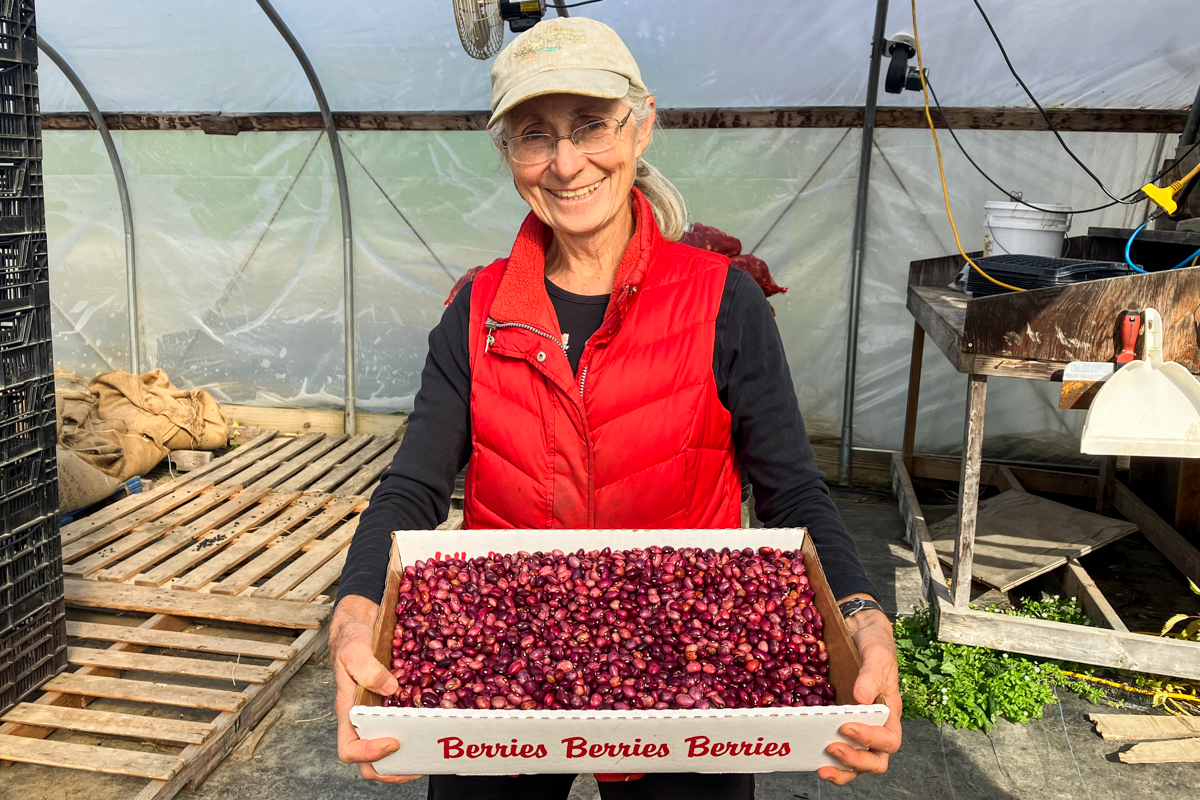 It was certainly a challenging season, with growers sharing stories of plant growth stunted by drought, late-season rain rotting entire bean crops, organizational transitions, and persistent racoons, rabbits, and mice. With all these, however, there was still an abundance to celebrate: lessons learned from growing the crops; a beautiful Harvest Celebration and sharing of Abenaki culture; recipe experimentation by growers, including a delicious cheese-stuffed squash; and growers collaborating across the state to aggregate and transport harvested crops for processing and distribution. The project has also facilitated connections with other communities. For example, Chief Stevens shared 110 squash with the Vermont Racial Justice Alliance to enjoy over the November holiday.
When asked why they wanted to participate, many growers referenced wanting to support Abenaki communities in their goals of food security and food sovereignty. Most saw their participation as acts of solidarity and reparations, especially non-native growers with access to or ownership of land, while several Abenaki participants expressed their desire to bring traditional foods and seeds back to Abenaki people. Many expressed the understanding that Abenaki people have stewarded these lands and seeds through centuries of colonization and are committed to strengthening Abenaki health and culture in the present.
Furthermore, the Abenaki Land Link Project embodies a spirit of reciprocity. While offering their resources, growers learn from working with traditionally-stewarded seeds and the rich Abenaki culture they represent. This, in turn, is a great educational opportunity for others, as many growers integrate their participation into school projects, demonstration gardens, and more. Nora Hefner, Director of Farm and Food Studies at Burr and Burton Academy, shares: "It was a great entry into conversations about Indigenous foodways and food sovereignty, seed saving, seed genetics, culturally-meaningful foods, stewardship, crop rotation, and more. Students felt the stakes of such a tactile and local example, ultimately holding both the project's weight and joy of growing food for people."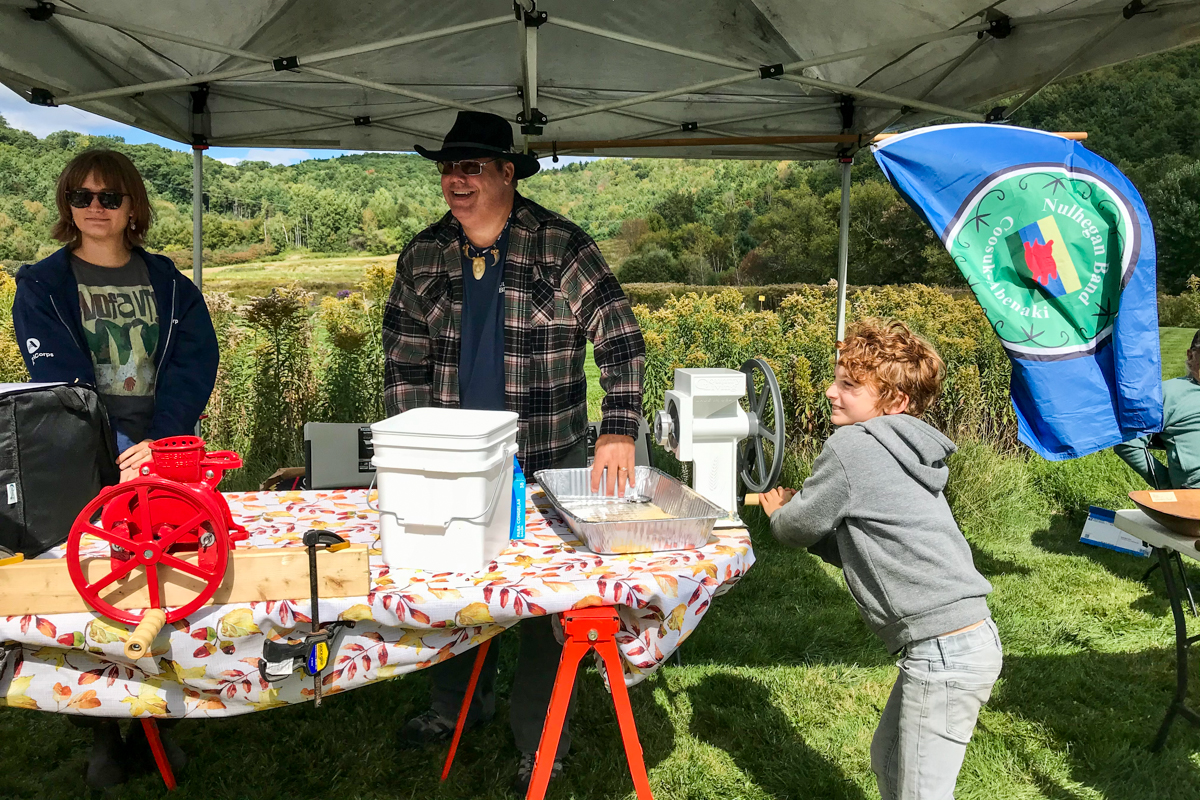 While the Abenaki Land Link Project focuses on building relationships with landowners in the state, it represents a step toward, not a solution, addressing health disparities and lack of access to traditional foodways for Abenaki community members in Vermont. In discussing this, Chief Stevens distinguishes food security from food sovereignty: "We're not in charge of our own destiny. I rely on [other people] to help grow our food because we don't have land. If any [of them] decide not to do it anymore and leave, then I'm back to not having any way to grow food…to have true sovereignty, we have to own our own land, we have to grow some of the food on our land." Hefner recognizes this as well: "As an educator and learner myself, this is a real, tangible way to think about decolonizing the literal soil. But I am reminded it is so preliminary. We are just scratching the surface and I want to keep thinking of concrete steps to participate in reconciliation."