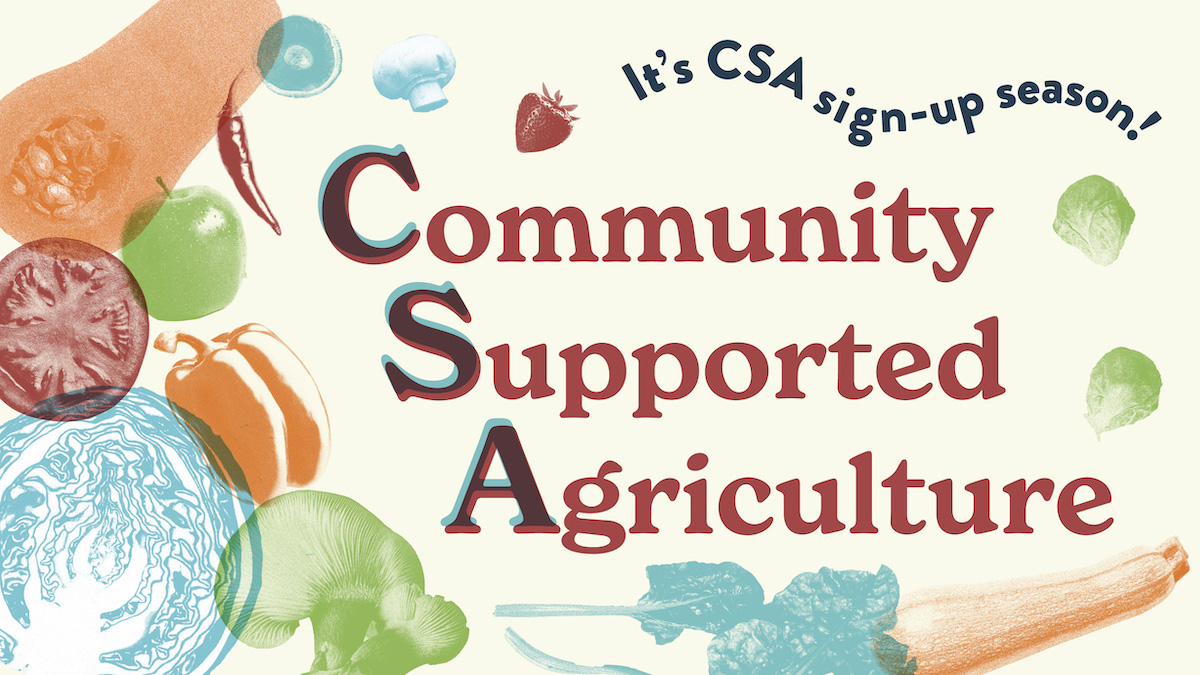 What is a CSA?
A CSA—short for community supported agriculture—is a subscription to a season's worth of fresh farm products that is distributed to members throughout the season. Getting food from a CSA is different from going to a farmers market or grocery store. As a CSA member, you make a seasonal commitment to a farmer in your community by prepaying for your food, and the food is either picked up weekly on the farm or at a local distribution center.
Why are CSAs so great?
CSA members take pleasure in knowing where and how their food is grown, and typically have an open line of communication with their farmer. CSAs invite members to join a farm community to share in the experiences of growing, eating, and celebrating delicious farm-fresh food.
The prepaid CSA arrangements are a source of financial security for farmers, and often result in lower prices for the consumer. With the cost of a CSA share, members help pay for seeds, equipment maintenance, and labor, while also helping to disperse the financial risks of crop failures. Subscribing to a CSA is a form of investment that allows farms to grow and become economically stable.
The CSA is a unique model of accessing local farm products that:
Provides access to fresh, nutritious, and diverse farm products;
Connects people of diverse life circumstances to the farmer, land, and food they eat;
Supports the agricultural costs incurred by farmers through up-front member investment in the upcoming harvest;
Provides fair market value to farmers through direct sales;
Helps individuals and families to spend their food dollars locally.
What is a typical CSA share like?
Remember, every farm is different! Most CSA shares are available during the summer months when Vermont weather is best suited for fruit and vegetable production. However, there has been an increase in the options available during other seasons. Moreover, while the majority of CSA shares provide fruits and vegetables, some farms now offer other farm products like eggs, cheese, bread, and meat. CSA shares also come in a variety of sizes and prices, and with a variety of pick-up options.
Here are some of the options to consider when you are looking for a CSA program:
Share Size: Many farms offer small, medium and large shares for different sized households.
Share Season: Most CSA shares occur in the summer; however, more 'off-season' shares that offer farm-fresh foods throughout the fall, winter, and early spring are popping up around the state. 
Share Products: Farm-fresh fruits and vegetables are the most typical products you will find in a CSA share; however, more programs are offering other local add-on foods including meat, eggs, cheese, and fresh baked and canned goods.
Delivery vs. Pick-Up: Some CSA farms deliver their shares to pick-up sites in a number of towns; some will even deliver to your house! Other CSA farms ask members to come to the farm to pick-up their shares, which may include some pick-your-own products like fresh herbs, flowers, berries, etc. Furthermore, some programs provide CSA members with a farm debit card that can be used at the farm stand or farmers' market booth.
Share Cost & Payment: Share costs range from $100-$800 depending on the share size and product offerings. Limited-income households may be able to receive assistance with the cost through the NOFA-VT Farm Share Program. Some farms accept SNAP/3SquaresVT benefits and/or allow payment plans.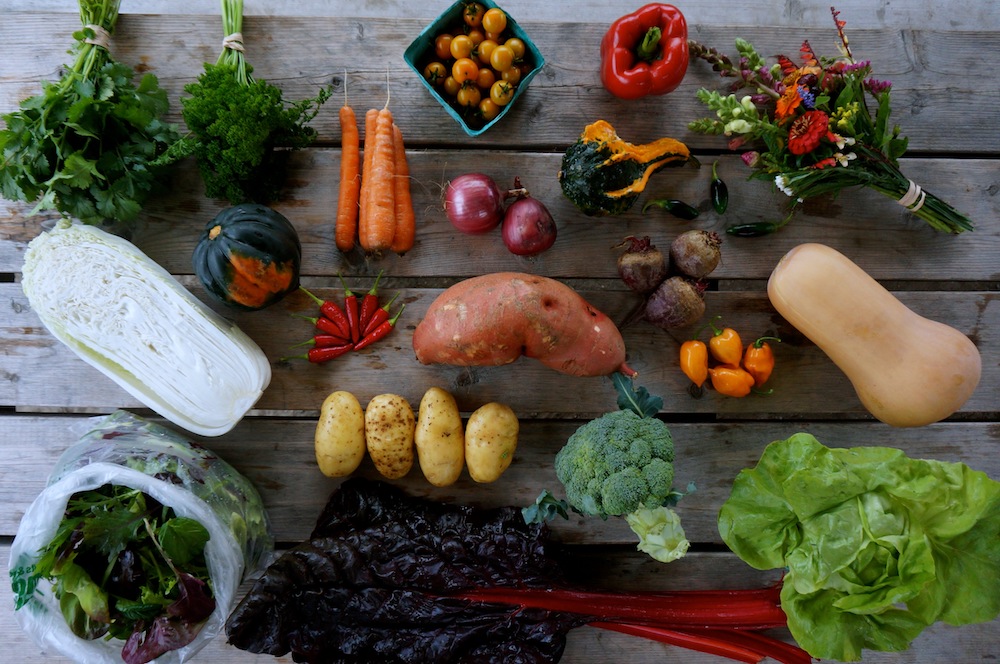 How do I find a CSA near me?
Use NOFA-VT's interactive directory to find a CSA near you that suits your life! Choose "CSA" from the list of features, and sort for other factors like location, season, products, payment options, and organic certification. To lower the barrier of access to CSAs, NOFA-VT subsidizes the cost for folks in need through our Farm Share Program.
Why Do Consumers Support CSA?
In a global market of infinite consumer choices and cheap goods, it may be surprising that so many people enroll in a CSA membership where they often sacrifice their choice of specific products. On the other hand, CSA was created in response to a globalized food economy to provide consumers with the ability to secure safe, local food and develop relationships with the people and places that produce that food. While farmers' markets and farm stands can provide one-on-one relationships between consumers and farmers, CSA expands that relationship and offers a chance for members to become more personally involved in the production of their food. Member involvement in the CSA farm begins at a guarantee to financially support the farm through thick and thin and can become as direct as members providing the farm's labor. Some CSA farms further integrate members into the farm operations by enlisting them into advisory and administrative roles. Through it all, consumers enjoy the satisfaction of knowing that they are directly enabling their local farms to survive and with their membership supporting their local economies and community health.
Strengthening relationships between consumers, farmers, and food is just the beginning of how CSA draws communities together. CSA offers individuals a chance to become part of a social network where they can find common interests with their neighbors and support a community cause. Many CSA farms enhance these opportunities by hosting social events, such as monthly potluck dinners, seasonal harvest parties, or lecture and concert series. For farmers and consumers alike, it is a joy to watch their communities unite in celebration of delicious, fresh, and local food!
CSA members also enjoy the practical and educational advantages of partnering with local farms. Through weekly shares, consumers are exposed to produce that they may not find or try on the open market. This diversity of produce tends to provide consumers with a more varied and nutritious diet. Besides learning about cooking and eating new foods, members also enjoy learning more about the processes of growing and raising food on the farm.