About the Farm
Products are grown on site by youth and young adult Corps Members! Your purchases at the VYCC farm stand directly support youth and young adults' effort to increase food security for Vermont families through the Health Care Share project and to educate and empower local youth through farming.
Products Offered
Eggs
Flowers
Fruit
Poultry
Red Meat
Preserved goods
Vegetables
All organic certified products
Arugula,Basil,Basil, Lemon,Basil, Sweet Genovese,Basil, Thai,Beans, dry,Beans, green,Beet greens,Beets,Bok choy,Brussels sprouts,Cabbage, green,Cabbage, Napa,Cabbage, red,Cabbage, Savoy,Carrots,Celeriac,Celery,Cilantro,Collards,Cucumber,Dill,Edamame,Eggplant,Fennel,Flowers, cut,Garlic,Greens, Asian and mustard,Greens, salad mixes,Ground cherries,Kale,Kohlrabi,Leek,Lettuce (head),Okra,Onions,Pac Choi,Parsnips,Peas, snap,Peas, snow,Peppers (hot),Peppers (sweet),Potatoes,Pumpkins,Radishes,Salad mix,Scallions,Shallots,Spinach,Squash (summer),Squash (winter),Sweet corn,Swiss chard,Tomatillos,Tomatoes (field),Tomatoes (greenhouse),Tomatoes, cherry,Turnips
Sells all certified-organic products?
No
Sells both organic and non-organic products?
Yes
Sells no certified-organic products?
No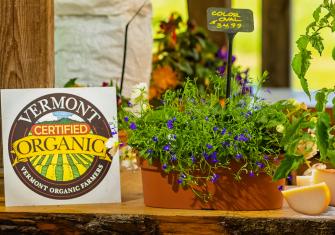 Address
1949 E. Main Street
Richmond, VT 05477
United States
Primary Contact
Jake Kornfeld
Dates Available for farm stands
Dates Available for CSAs
The Farm at VYCC offers a free-choice CSA through our Farm Shares program. Members can pick out their share from our farm stand any time during operating hours (9 AM - 6 PM, seven days/ week).
Seasons Available
Spring
Summer
Fall
Instagram
https://www.instagram.com/thefarmatvycc/