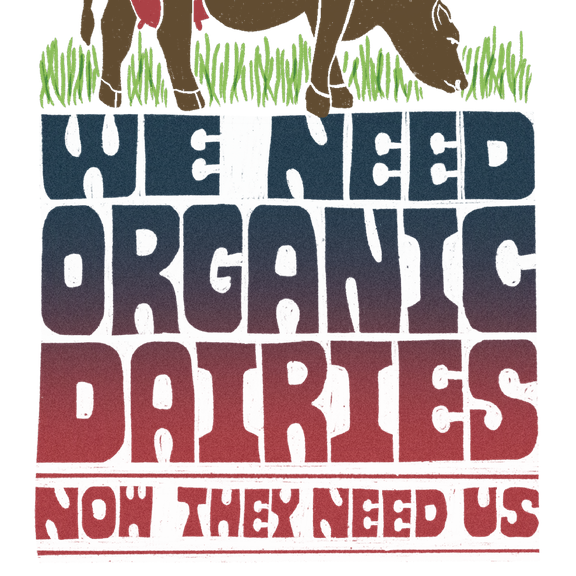 The latest:
Last week we asked you to contact your House Reps in support of providing $9.2 million in emergency relief to organic dairy farms in crisis.

Thanks in part to your calls and emails, the request was passed by the House! 🎉
Now it needs to pass the Senate–and this will be a heavier lift.

Can you contact your Senators by Friday, February 17th to make sure they understand what's at stake?
What you can do:
Email or call them with this message:
I'm writing to encourage you to support providing organic dairy farms $9.2 million in relief in the FY23 Budget Adjustment Act. Vermont's organic dairy farms are small, family farms. They are economic engines in our rural economies and make Vermont more food resilient all while improving our soils, protecting our waterways, and promoting biodiversity. Vermont's organic dairies give our state its character and brand and contribute to its culture of caring for people and planet. We need organic dairies in our future, and right now they urgently need our support. 
Thank you for supporting Vermont's organic dairies!
Organic dairies have been in an economic freefall without a safety net for over a year now. Ensuring this relief gets written into the FY23 Budget Adjustment Act in the next week is our best hope to get funds to farms that simply cannot wait until July 1, when the FY24 budget kicks in.

Your senators need to hear the urgency of this request, and be assured that this funding is a bridge to a better future that we do believe is on the way.

NOTE: If your senator writes you back and has questions or comments, please send them my way! You (or they) can contact me at [email protected] or (802) 434-7157.
Want to stay updated on this evolving issue? Subscribe to our policy & advocacy newsletter here.
---
Listen to the farmers.
On January 26, 2023, seven organic dairy farmers testified in a joint hearing of the House Agriculture, Food Resiliency and Forestry Committee and the Senate Agriculture Committee.
Here are some highlights: